Comparison between the dietary practices among females giving birth to normal and low birth weight babies
Keywords:
Neonates, dietary practices, Low birth weight babies
Abstract
In malnourished people low birth weight is frequent mainly due to intrauterine growth limitation. Low birth weight is linked with high rates of fetal deaths, poor growth in childhood, abnormal brain development and long term illness in adulthood. Maternal poor dietary intake,  habits  and practices are directly associated with low birth weight Objective: To Compare the dietary practices among females giving birth to normal and low birth weight babies Methods: A Comparative cross-sectional study was conducted at Pediatric and Gynea departments of Sir Ganga Ram hospital and the University of Lahore Teaching Hospital, Lahore. Study duration was 4 months and sample size was 100 females and divided into two groups, Group I 50 females giving birth to normal weight babies Group II 50 females giving birth to low birth weight babies. Data collection was carried out by using pre-tested questionnaire/Performa. Data were analyzed with the help of SPSS version 21.0.   Data were compared by applying chi-square test Results: Current result showed that anemia was more common in pregnant females giving low birth weight babies as compared to females with normal weight babies. Analysis revealed that there was a significant association between mothers dietary intake and birth weight of child Conclusions: LBW were more prevalent amongst all the pregnant females, with inadequate dietary practices, inappropriate food choices, myths or restricted diet during pregnancy due to peer pressure leading to low birth weight babies. The rate of LBW were more affected by their food choices as compared to mothers with normal weight babies.
References
Potdar RD, Sahariah SA, Gandhi M, Kehoe SH, Brown N, Sane H, Dayama M, Jha S, Lawande A, Coakley PJ, Marley-Zagar E. Improving women's diet quality preconceptionally and during gestation: effects on birth weight and prevalence of low birth weight—a randomized controlled efficacy trial in India (Mumbai Maternal Nutrition Project). The American journal of clinical nutrition. 2014 Sep 17;100(5):1257-68.
. Mitchell EA, Robinson E, Clark PM, Becroft DM, Glavish N, Pattison NS, Pryor JE, Thompson JM, Wild CJ. Maternal nutritional risk factors for small for gestational age babies in a developed country: a case-control study. Archives of Disease in Childhood-Fetal and Neonatal Edition. 2004 Sep 1;89(5):F431-5.
. Lagiou P, Tamimi RM, Mucci LA, Adami HO, Hsieh CC, Trichopoulos D. Diet during pregnancy in relation to maternal weight gain and birth size. European journal of clinical nutrition. 2004 Feb;58(2):231.
. Tu N, King JC, Dirren H, Thu NH, Ngoc QP, Diep AN. Effect of animal-source food ssupplement prior to and during pregnancy on birthweight and prematurity in rural Vietnam: a brief study description. Food and nutrition bulletin. 2014 Dec;35(4_suppl3):S205-8.
. Moore VM, Davies MJ, Willson KJ, Worsley A, Robinson JS. Dietary composition of pregnant women is related to size of the baby at birth. The Journal of nutrition. 2004 Jul 1;134(7):1820-6
. Jeric M, Roje D, Medic N, Strinic T, Mestrovic Z, Vulic M. Maternal pre-pregnancy underweight and fetal growth in relation to institute of medicine recommendations for gestational weight gain. Early human development. 2013 May 1;89(5):277-81.
. Evans J, Heron J, Patel RR, Wiles N. Depressive symptoms during pregnancy and low birth weight at term. The British Journal of Psychiatry. 2007 Jul;191(1):84-5.
. Paranjothy S, Broughton H, Adappa R, Fone D. Teenage pregnancy: who suffers?. Archives of disease in childhood. 2009 Mar 1;94(3):239-45.
. Dewey KG, Cohen RJ. Does birth spacing affect maternal or child nutritional status? A systematic literature review. Maternal & child nutrition. 2007 Jul 1;3(3):151-73.
. Andersen LT, Thilsted SH, Nielsen BB, Rangasamy S. Food and nutrient intakes among pregnant women in rural Tamil Nadu, South India. Public health nutrition. 2003 Apr;6(2):131-7.
. Muchemi OM, Echoka E, Makokha A. Factors associated with low birth weight among neonates born at Olkalou District Hospital, Central Region, Kenya. Pan African Medical Journal. 2015;20(1).
. Poon AK, Yeung E, Boghossian N, Albert PS, Zhang C. Maternal dietary patterns during third trimester in association with birthweight characteristics and early infant growth. Scientifica. 2013.
. Rao S, Yajnik CS, Kanade A, Fall CH, Margetts BM, Jackson AA, Shier R, Joshi S, Rege S, Lubree H, Desai B. Intake of micronutrient-rich foods in rural Indian mothers is associated with the size of their babies at birth: Pune Maternal Nutrition Study. The Journal of nutrition. 2001 Apr 1;131(4):1217-24.
. Knudsen VK, Orozova-Bekkevold IM, Mikkelsen TB, Wolff S, Olsen SF. Major dietary patterns in pregnancy and fetal growth. European journal of clinical nutrition. 2008 Apr;62(4):463.
. Mikkelsen TB, Osler M, Orozova-Bekkevold I, Knudsen VK, Olsen SF. Association between fruit and vegetable consumption and birth weight: a prospective study among 43,585 Danish women. Scandinavian journal of public health. 2006 Dec;34(6):616-22.
. Sloan NL, Lederman SA, Leighton J, Himes JH, Rush D. The effect of prenatal dietary protein intake on birth weight. Nutrition research. 2001 Jan 1;21(1-2):129-39.
. Loy SL, Marhazlina M, Nor Azwany Y, Hamid Jan JM. Higher intake of fruits and vegetables in pregnancy is associated with birth size. Southeast Asian Journal of Tropical Medicineand Public Health. 2011 Sep 1;42(5):1214.
. Okubo H, Miyake Y, Sasaki S, Tanaka K, Murakami K, Hirota Y, Child Health Study Group. Maternal dietary patterns in pregnancy and fetal growth in Japan: the Osaka Maternal and Child Health Study. British Journal of Nutrition. 2012 May;107(10):1526-33.
. Siza JE. Risk factors associated with low birth weight of neonates among pregnant women attending a referral hospital in northern Tanzania. Tanzania journal of health research. 2008;10(1):1-8.
. Xue F, Willett WC, Rosner BA, Forman MR, Michels KB. Parental characteristics as predictors of birthweight. Human reproduction. 2007 Oct 12;23(1):168-77.
. Cuco G, Arija V, Iranzo R, Vila J, Prieto MT, Fernandez-Ballart J. Association of maternal protein intake before conception and throughout pregnancy with birth weight. Acta obstetricia et gynecologica Scandinavica. 2006 Jan 1;85(4):413-21.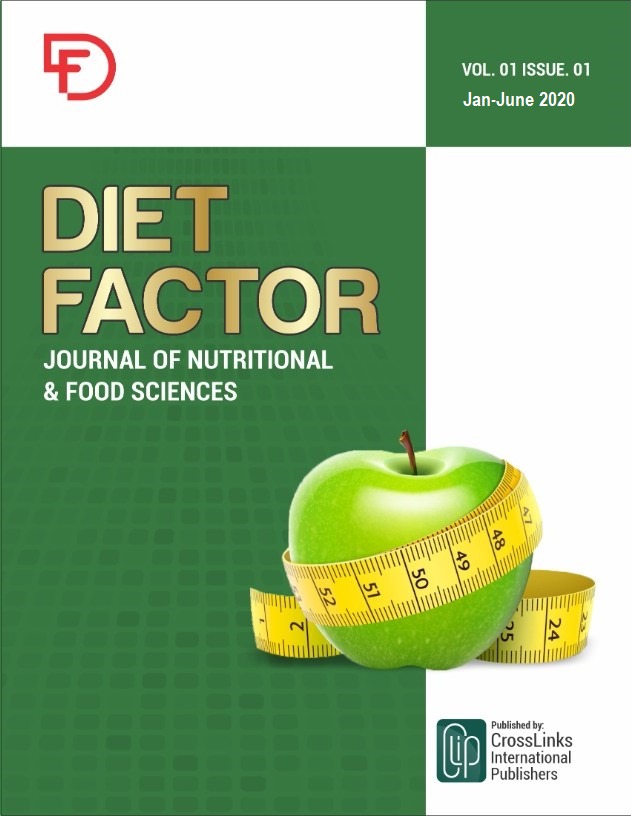 Downloads
How to Cite
Zahoor, M., Saeed, S., Jafri, S. U., & Arshad, M. (2020). Comparison between the dietary practices among females giving birth to normal and low birth weight babies. DIET FACTOR (Journal of Nutritional &Amp; Food Sciences), 1(02), 34–38. https://doi.org/10.54393/df.v1i02.28
License
Copyright (c) 2020 DIET FACTOR (Journal of Nutritional & Food Sciences)
This work is licensed under a Creative Commons Attribution 4.0 International License.
This is an open-access journal and all the published articles / items are distributed under the terms of the Creative Commons Attribution License, which permits unrestricted use, distribution, and reproduction in any medium, provided the original author and source are credited. For comments