Phytochemicals And Nutraceuticals as A Promising Drug Candidate in Autism Spectrum Disorder
Phytochemicals and Nutraceuticals
Keywords:
Autism, neurological disorders, children, stress, neurodevelopmental disorders
Abstract
Autism is a diversified group of neurological disorders having unknown cause which are interpreted entirely based on behavioral examination. During the last two decades, the frequency and prevalence rate of autism spectrum disorder (ASD) have risen. The elevated level of oxidative stress and reduced antioxidant potential has been associated with this disorder. Further in autism, the genetic as well as environmental determinants may escalate susceptibility to oxidative stress. Elevated oxidative stress in ASD give rise to the development of this disorder regarding both clinical manifestations and pathological process. Autism manifests the characteristics like changes in complicated human behaviors which includes social interaction, communication and stereotypies. In addition, children suffering from autism may not be able to cope anxiety and behave unreasonably even to otherwise benign stimulators. It is proposed by growing evidence that epigenetic mechanisms play a role in the etiology of autism. To detect epigenetic biomarkers for ASD, numerous studies have endeavored until now. Children having autism spectrum disorder (ASD) usually show remarkable behavioral difficulties in combination with dysfunction in social relationship
References
Strunecká A, Strunecký O, Guan Z. The resemblance of fluorosis pathology to that of autism spectrum disorder: A mini-review. Fluoride. 2019 Apr; 52(2):105-15.
Lord C, Brugha TS, Charman T, Cusack J, Dumas G, Frazier T, et al. Autism spectrum disorder. Nature Reviews Disease Primers. 2020 Jan 16; 6(1):5. doi: 10.1038/s41572-019-0138-4.
Jussila K, Junttila M, Kielinen M, Ebeling H, Joskitt L, Moilanen I, et al. Sensory abnormality and quantitative autism traits in children with and without autism spectrum disorder in an epidemiological population. Journal of autism and developmental disorders. 2020 Jan; 50(1):180-188. doi: 10.1007/s10803-019-04237-0.
Grove J, Ripke S, Als TD, Mattheisen M, Walters RK, Won H, et al. Identification of common genetic risk variants for autism spectrum disorder. Nature genetics. 2019 Mar; 51(3):431-444. doi: 10.1038/s41588-019-0344-8.
Hyman SL, Levy SE, Myers SM. Identification, evaluation, and management of children with autism spectrum disorder. Pediatrics. 2020 Jan; 145(1): e20193447. doi: 10.1542/peds.2019-3447.
Theoharides TC, Kavalioti M, Tsilioni I. Mast cells, stress, fear and autism spectrum disorder. International journal of molecular sciences. 2019 Jul; 20(15):3611. doi: 10.3390/ijms20153611.
Bhandari R, Paliwal JK, Kuhad A. Neuropsychopathology of Autism Spectrum Disorder: Complex Interplay of Genetic, Epigenetic, and Environmental Factors. Advances in Neurobiology 2020; 24:97-141. doi: 10.1007/978-3-030-30402-7_4.
Manivasagam T, Arunadevi S, Essa MM, SaravanaBabu C, Borah A, Thenmozhi AJ, et al. Role of Oxidative Stress and Antioxidants in Autism. Advances in Neurobiology. 2020; 24:193-206. doi: 10.1007/978-3-030-30402-7_7.
Dickinson S, Agazzi H. A Father with Posttraumatic Stress Disorder and a Son with Autism Spectrum Disorder: A Parent-Child Interaction Therapy Case Study. Military Behavioral Health. 2019 Jul; 7(3):345-53.
Modi ME, Sahin M. Tau: A Novel Entry Point for mTOR-Based Treatments in Autism Spectrum Disorder? Neuron. 2020 May; 106(3):359-361. doi: 10.1016/j.neuron.2020.04.019.
Kimura R, Nakata M, Funabiki Y, Suzuki S, Awaya T, Murai T, et al. An epigenetic biomarker for adult high-functioning autism spectrum disorder. Scientific reports. 2019 Sep; 9(1):13662. doi: 10.1038/s41598-019-50250-9.
Schafer ST, Paquola AC, Stern S, Gosselin D, Ku M, Pena M, et al. Pathological priming causes developmental gene network heterochronicity in autistic subject-derived neurons. Nature neuroscience.2019 Feb; 22(2):243-255. doi: 10.1038/s41593-018-0295-x.
Mahajan PV, Salvi PS, Mahajan S, Subramanian S. a Mini Review of Gastrointestinal Pathology and Nutrition in Autism Spectrum Disorder. Journal of Advances in Medicine and Medical Research. 2019 Jun: 1-8. doi.org/10.9734/jammr/2019/v29i1130144
Zaidman-Zait A, Zwaigenbaum L, Duku E, Bennett T, Szatmari P, Mirenda P, et al. Factor analysis of the children's sleep habits questionnaire among preschool children with autism spectrum disorder. Research in developmental disabilities. 2020 Feb; 97:103548. doi: 10.1016/j.ridd.2019.103548.
Sharon G, Cruz NJ, Kang DW, Gandal MJ, Wang B, Kim YM, et al. Human gut microbiota from autism spectrum disorder promote behavioral symptoms in mice. Cell. 2019 May; 177(6):1600-1618.e17. doi: 10.1016/j.cell.2019.05.004.
Serra D, Almeida LM, Dinis TC. Polyphenols in the management of brain disorders: Modulation of the microbiota-gut-brain axis. In Advances in food and nutrition research 2020; 91:1-27. doi: 10.1016/bs.afnr.2019.08.001.
Küçüksen M, Küçüksen AN, inventors; Procare Beheer BV, assignee. Psilocybin and/or psilocin in combination with cannabinoids and/or terpenes. United States patent US 2020 Aug; (10):706-729.
Eyal AM, inventor; Buzzelet Development, Technologies Ltd, assignee. Terpene-enriched cannabinoid composition. United States patent application US 15/578,882. 2018 Jun.
Poleg S, Golubchik P, Offen D, Weizman A. Cannabidiol as a suggested candidate for treatment of autism spectrum disorder. Progress in Neuro-Psychopharmacology and Biological Psychiatry. 2019 Mar; 89:90-96. doi: 10.1016/j.pnpbp.2018.08.030
Hanrahan JR, Chebib M, Johnston GA. Flavonoid modulation of GABAA receptors. British journal of pharmacology. 2011 May; 163(2):234-45. doi: 10.1111/j.1476-5381.2011.01228. x.
Tsilioni I, Taliou A, Francis K, Theoharides TC. Children with autism spectrum disorders, who improved with a luteolin-containing dietary formulation, show reduced serum levels of TNF and IL-6. Translational psychiatry. 2015 Sep; 5(9): e647. doi: 10.1038/tp.2015.142.
Yılmaz C, Gökmen V. Neuroactive compounds in foods: Occurrence, mechanism and potential health effects. Food Research International. 2020 Feb; 128:108744. doi: 10.1016/j.foodres.2019.108744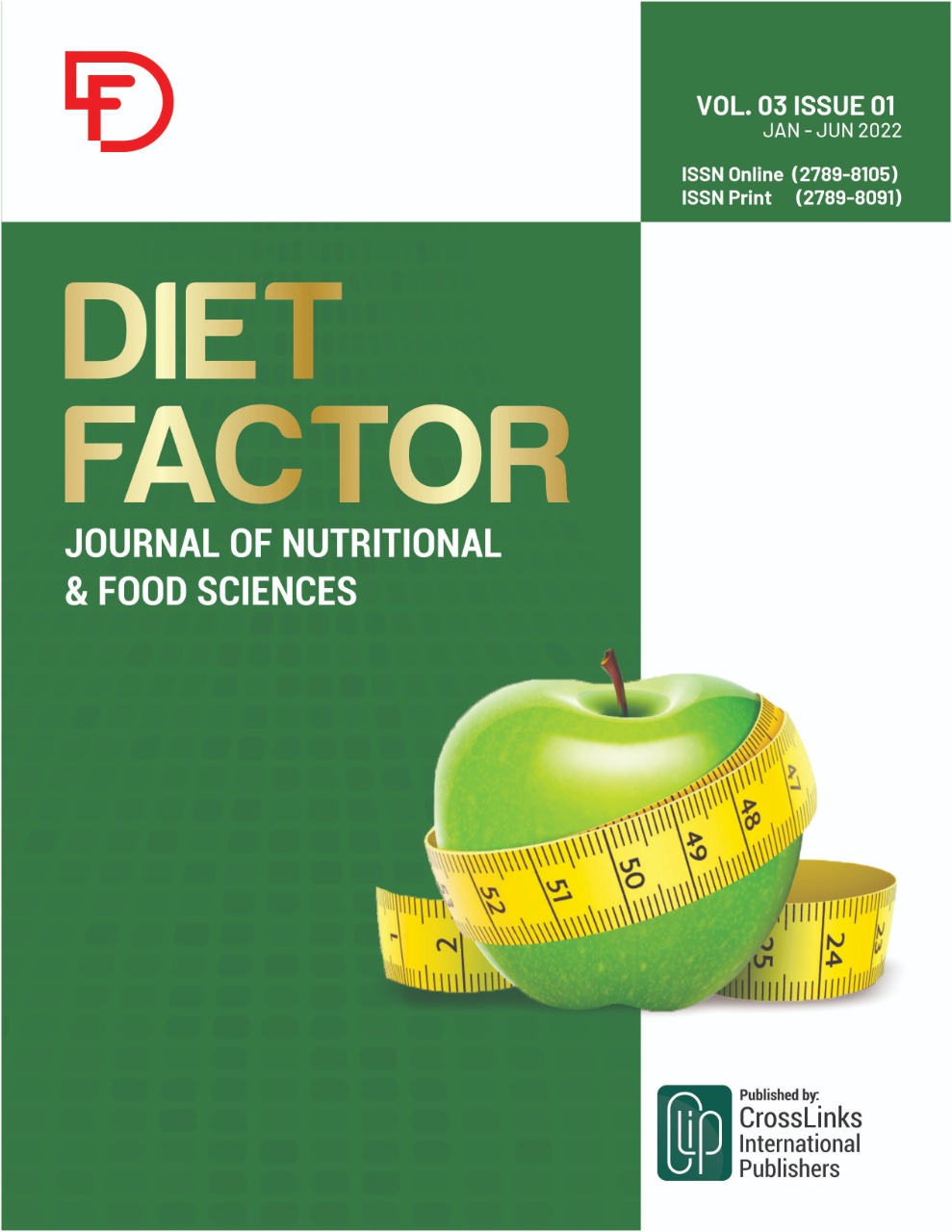 Downloads
How to Cite
Aslam, M., & Barkaat Azam, M. . (2022). Phytochemicals And Nutraceuticals as A Promising Drug Candidate in Autism Spectrum Disorder: Phytochemicals and Nutraceuticals. DIET FACTOR (Journal of Nutritional &Amp; Food Sciences), 3(1), 05–09. https://doi.org/10.54393/df.v3i1.12
License
Copyright (c) 2022 DIET FACTOR (Journal of Nutritional & Food Sciences)
This work is licensed under a Creative Commons Attribution 4.0 International License.
This is an open-access journal and all the published articles / items are distributed under the terms of the Creative Commons Attribution License, which permits unrestricted use, distribution, and reproduction in any medium, provided the original author and source are credited. For comments