Demographic variables associated with oral squamous cell carcinoma in a small subset of population at a tertiary care hospital of Lahore
Demographic OSCC
Keywords:
oral cancer, gutka, pan, sapari, Substance abuse
Abstract
Oral Squamous Cell Carcinoma (OSCC) is life-threatening disease in South-Asian Countries where there is more consumption of tobacco, gutka and other substance of abuse. Objective: To evaluate the demographic variables in a small subset of population at a tertiary case hospital of Lahore Methods: This cross-sectional study was conducted in a tertiary care hospital of Lahore, Pakistan and a designed proforma was used for data collection after consent of patients. Results: Majority of the patients were males, frequent age group was 60-80 years and well differentiated carcinoma patients were more as compared to other grades Conclusions: Regular oral checkup for smokers and drinkers and preventive measures should be taken for discouraging and giving up the smoking.
References
Jemal A, Siegel R, Xu J, Ward E. CA A Cancer Journal for Clinicians, 2011, 61(2): 133-133. doi.org/10.3322/caac.20073
Montero PH, Patel SG. Cancer of the oral cavity. Surg Oncol Clin N Am. 2015 Jul;24(3):491-508. doi: 10.1016/j.soc.2015.03.006.
Wong T, Wiesenfeld D. Oral Cancer. Aust Dent J. 2018 Mar;63 Suppl 1:S91-S99. doi: 10.1111/adj.12594.
Farris C, Petitte DM. Head, neck, and oral cancer update. Home Healthc Nurse. 2013 Jun;31(6):322-8; quiz 328-30. doi: 10.1097/NHH.0b013e3182932f01.
Walker DM, Boey G, McDonald LA. The pathology of oral cancer. Pathology. 2003 Oct;35(5):376-83. doi: 10.1080/00310290310001602558.
van der Waal I, de Bree R, Brakenhoff R, Coebergh JW. Early diagnosis in primary oral cancer: is it possible? Med Oral Patol Oral Cir Bucal. 2011 May 1;16(3):e300-5. doi: 10.4317/medoral.16.e300.
Malkani N, Kazmi S, Rashid MU. Epidemiological Assessment of Oral Cancer Burden in Pakistan. Cancer Invest. 2021 Nov;39(10):842-853. doi: 10.1080/07357907.2021.1982962.
Neville BW, Day TA. Oral cancer and precancerous lesions. CA Cancer J Clin. 2002 Jul-Aug;52(4):195-215. doi: 10.3322/canjclin.52.4.195.
Valdez JA, Brennan MT. Impact of Oral Cancer on Quality of Life. Dent Clin North Am. 2018 Jan;62(1):143-154. doi: 10.1016/j.cden.2017.09.001.
Khalili J. Oral cancer: risk factors, prevention and diagnostic. Exp Oncol. 2008 Dec;30(4):259-64.
Palmer O, Grannum R. Oral cancer detection. Dent Clin North Am. 2011 Jul;55(3):537-48, viii-ix. doi: 10.1016/j.cden.2011.02.009.
Petersen PE, Bourgeois D, Ogawa H, Estupinan-Day S, Ndiaye C. The global burden of oral diseases and risks to oral health. Bull World Health Organ. 2005 Sep;83(9):661-9
Marchioni DM, Fisberg RM, Francisco de Góis Filho J, Kowalski LP, Brasilino de Carvalho M, Abrahão M, Latorre Mdo R, Eluf-Neto J, Wünsch Filho V. Dietary patterns and risk of oral cancer: a case-control study in São Paulo, Brazil. Rev Saude Publica. 2007 Feb;41(1):19-26. doi: 10.1590/s0034-89102007000100004.
Wünsch-Filho V. The epidemiology of oral and pharynx cancer in Brazil. Oral Oncol. 2002 Dec;38(8):737-46. doi: 10.1016/s1368-8375(02)00066-0.
Woźniak A, Szyfter K, Szyfter W, Florek E. Nowotwory głowy i szyi--historia [Head and neck cancer--history]. Przegl Lek. 2012;69(10):1079-83. Polish.
D'souza S, Addepalli V. Preventive measures in oral cancer: An overview. Biomed Pharmacother. 2018 Nov;107:72-80. doi: 10.1016/j.biopha.2018.07.114. E
Paré A, Joly A. Cancers de la cavité buccale : facteurs de risque et prise en charge [Oral cancer: Risk factors and management]. Presse Med. 2017 Mar;46(3):320-330. French. doi: 10.1016/j.lpm.2017.01.004.
e Camargo Cancela M, Voti L, Guerra-Yi M, Chapuis F, Mazuir M, Curado MP. Oral cavity cancer in developed and in developing countries: population-based incidence. Head Neck. 2010 Mar;32(3):357-67. doi: 10.1002/hed.21193.
Madani, A. H., Dikshit, M., Bhaduri, D., Aghamolaei, T., Moosavy, S. H., & Azarpaykan, A. (2014). Interaction of alcohol use and specific types of smoking on the development of oral cancer. International journal of high risk behaviors & addiction, 3(1), e12120. https://doi.org/10.5812/ijhrba.12120
Bile KM, Shaikh JA, Afridi HU, Khan Y. Smokeless tobacco use in Pakistan and its association with oropharyngeal cancer. East Mediterr Health J. 2010;16 Suppl:S24-30.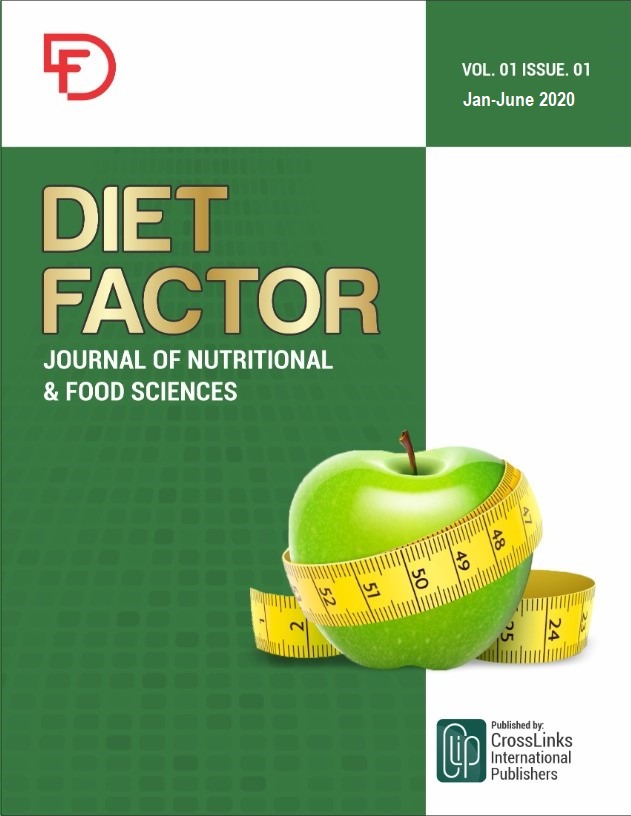 Downloads
How to Cite
Faridi, T. A. ., Mumtaz, S., Raees, U., Rafi, U., Siddiqui, M. F., Khan, M. A., & Hamid, I. (2021). Demographic variables associated with oral squamous cell carcinoma in a small subset of population at a tertiary care hospital of Lahore: Demographic OSCC. DIET FACTOR (Journal of Nutritional &Amp; Food Sciences), 2(01), 21–25. https://doi.org/10.54393/df.v3i01.26
License
Copyright (c) 2021 DIET FACTOR (Journal of Nutritional & Food Sciences)
This work is licensed under a Creative Commons Attribution 4.0 International License.
This is an open-access journal and all the published articles / items are distributed under the terms of the Creative Commons Attribution License, which permits unrestricted use, distribution, and reproduction in any medium, provided the original author and source are credited. For comments