Association of Hygiene and Hand Washing on Severity of Acute Diarrhea among Children Under Five Years of Age
Keywords:
Corn Silk, Maydis Stigma, Maysin, Therapeutic Effects, Renal Injury, Nephrotoxicity
Abstract
According to World Health Organization (WHO) approximately four million children less than 5 years of age in Asia, Africa, and Latin America die annually from diarrhea; and 80% of these deaths occur in the first year of life. Objective: To evaluate the frequency of hygiene and hand washing among children under the age of five years with acute diarrhea. Methods: A cross-sectional study was conducted in the Department of Pediatrics, Mansora Hospital, Lahore. The duration of the study was 3 months. Children who were suffering from acute diarrhea, aged 1-5 years were selected. A questionnaire was used to take the history of the participants. The results are presented in the form of descriptive and inferential statistics. Results: A total of 176 male and 126 female participants were included in this study. The results of the study showed that 184 out of 302 participants were having a hand wash routine, 188 out of 302 were used to wash their hands with soap and water, and 43 out of 302 were used to wash fruits and vegetables before eating. Conclusions: It is concluded that a majority of the participants were having good hand wash practices while only a few participants used to wash fruits and vegetables before eating which can be a reason for diarrhea among that age group. 
References
Santosham M, Chandran A, Fitzwater S, Fischer-Walker C, Baqui AH and Black R. Progress and barriers for the control of diarrhoeal disease. Lancet. 2010 3;376(9734):63-7. doi: 10.1016/S0140-6736(10)60356-X.
Motamed F, Kazemi N and Nabavizadeh R. Assessment of chronic diarrhea in early infancy in Tehran Tertiary Care Center; Tehran-Iran. International Journal of Pediatrics. 2015;3(2.1):45-50.
Mushtaq I, Cheema HA, Malik HS, Waheed N, Hashmi MA and Malik HS. Causes Of Chronic Non-Infectious Diarrhoea In Infants Less Than 6 Months Of Age: Rarely Recognized Entities. J Ayub Med Coll Abbottabad. 2017;29(1):78-82.
GBD 2013 Mortality and Causes of Death Collaborators. Global, regional, and national age-sex specific all-cause and cause-specific mortality for 240 causes of death, 1990-2013: a systematic analysis for the Global Burden of Disease Study 2013. Lancet. 2015;385(9963):117-71. doi: 10.1016/S0140-6736(14)61682-2.
Fine KD and Schiller LR. AGA technical review on the evaluation and management of chronic diarrhea. Gastroenterology. 1999;116(6):1464-86. doi: 10.1016/s0016-5085(99)70513-5.
Hasan MM and Richardson A. How sustainable household environment and knowledge of healthy practices relate to childhood morbidity in South Asia: analysis of survey data from Bangladesh, Nepal and Pakistan. BMJ open. 2017;7(6):e015019. doi.org/10.1136/bmjopen-2016-015019.
Schertzer KA and Garmel GM. Acute Infectious Diarrhea. Emergency Management of Infectious Diseases. 2018:169. doi.org/10.1017/9781316597095.027.
Abuzerr S, Nasseri S, Yunesian M, Hadi M, Zinszer K and Mahvi AH et al. Water, sanitation, and hygiene risk factors of acute diarrhea among children under five years in the Gaza Strip. Journal of Water, Sanitation and Hygiene for Development. 2020;10(1):111-23. doi.org/10.2166/washdev.2019.072.
Ansari S, Sherchand JB, Parajuli K, Paudyal BM, Adhikari RP and Shrestha S et al. Pattern of acute parasitic diarrhea in children under five years of age in Kathmandu, Nepal. Open Journal of Medical Microbiology. 2012;2(3):6. DOI:10.4236/ojmm.2012.23014.
Bakir H, Hadi M and Jurdi M. Towards a renewed public health regulatory and surveillance role in water, sanitation and hygiene (Editorial). East Mediterr Health J. 2017;23(8):525-526.
Murtaza F, Muzaffar M, Mustafa T and Anwer J. Water and sanitation risk exposure in children under-five in Pakistan. J Family Community Med. 2021;28(2):103-109. doi:10.4103/jfcm.jfcm_149_21.
Ali M, Abbas F and Shah AA. Factors associated with prevalence of diarrhea among children under five years of age in Pakistan. Children and Youth Services Review. 2022;132:106303. doi.org/10.1016/j.childyouth.2021.106303.
Bhutta ZA, Das JK, Walker N, Rizvi A, Campbell H and Rudan I et al. Interventions to address deaths from childhood pneumonia and diarrhoea equitably: what works and at what cost?. The Lancet. 2013;381(9875):1417-29. doi.org/10.1016/S0140-6736(13)60648-0.
Yaya S, Hudani A, Udenigwe O, Shah V, Ekholuenetale M and Bishwajit G. Improving water, sanitation and hygiene practices, and housing quality to prevent diarrhea among under-five children in Nigeria. Tropical medicine and infectious disease. 2018;3(2):41. doi.org/10.3390/tropicalmed3020041.
Joshi R, Kumar A and Masih S. Food hygiene practice among mothers and its association with occurrence of diarrhea in under-five children in selected rural community area. Int. J. Med. Sci. Public Health. 2020;9:179-84. doi.org/10.5455/ijmsph.2020.1233929122019.
Black RE, Walker CF. Do Water, Sanitation, and Hygiene Interventions Prevent Childhood Diarrhea? J Infect Dis. 2020;221(8):1241-1243. doi: 10.1093/infdis/jiz183.
McMichael C, Vally H. Children's perspectives on water, sanitation and hygiene in schools: A case-study from the Philippines. Health Place. 2020;62:102290. doi: 10.1016/j.healthplace.2020.102290.
Wolf J, Hunter PR, Freeman MC, Cumming O, Clasen T, Bartram J, Higgins JPT, Johnston R, Medlicott K, Boisson S, Prüss-Ustün A. Impact of drinking water, sanitation and handwashing with soap on childhood diarrhoeal disease: updated meta-analysis and meta-regression. Trop Med Int Health. 2018;23(5):508-525. doi: 10.1111/tmi.13051.
Agustina R, Sari TP, Satroamidjojo S, Bovee-Oudenhoven IM, Feskens EJ, Kok FJ. Association of food-hygiene practices and diarrhea prevalence among Indonesian young children from low socioeconomic urban areas. BMC Public Health. 2013;13:977. doi: 10.1186/1471-2458-13-977.
Bartlett AV, Hurtado E, Schroeder DG, Mendez H. Association of indicators of hygiene behavior with persistent diarrhea of young children. Acta Paediatr Suppl. 1992;381:66-71. doi: 10.1111/j.1651-2227.1992.tb12374.x.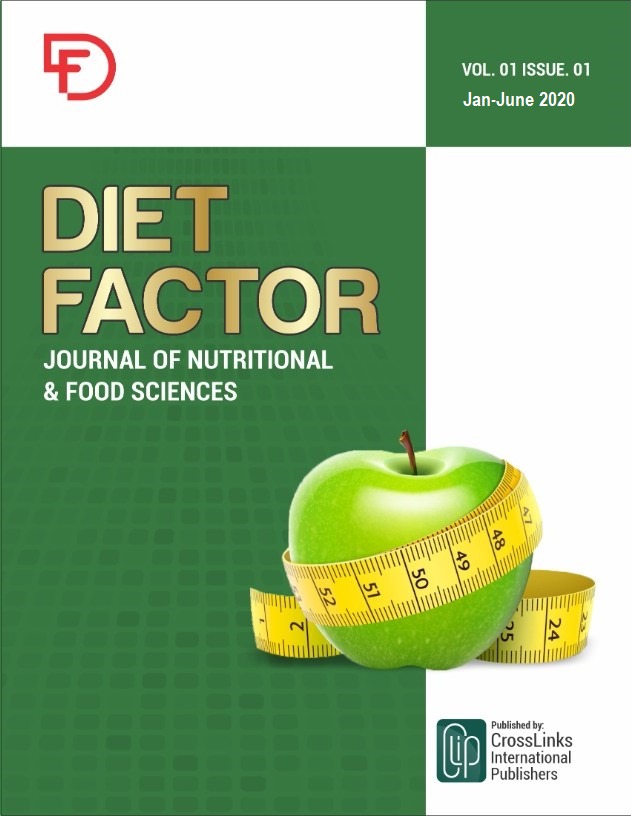 Downloads
How to Cite
Jabeen, S., Shafique, T., Basharat, S., Khalil, A. A., Ali, M., Saeed, M., & Choohan, N. (2020). Association of Hygiene and Hand Washing on Severity of Acute Diarrhea among Children Under Five Years of Age. DIET FACTOR (Journal of Nutritional &Amp; Food Sciences), 1(02), 39–43. https://doi.org/10.54393/df.v1i02.19
License
Copyright (c) 2020 DIET FACTOR (Journal of Nutritional & Food Sciences)
This work is licensed under a Creative Commons Attribution 4.0 International License.
This is an open-access journal and all the published articles / items are distributed under the terms of the Creative Commons Attribution License, which permits unrestricted use, distribution, and reproduction in any medium, provided the original author and source are credited. For comments